Frequently Asked Questions
We've made using WAVE easy and intuitive because we believe your focus should be on your family, not learning how to use complicated technology.

Please review the FAQs below if you have any questions.

Don't see what you're looking for, please

contact us

.
WE WATCH OUR SWIMMERS. WHY DO WE NEED WAVE?
---
We believe that most parents and pool owners are vigilant. But they're also human and like any human they can be distracted by noise, heat, humidity, glare, blind spots, distortion in the water and more.

A drowning can happen in just seconds. It is typically silent and without noticeable movement or actions by the victim. In reality it's nothing like what is depicted in movies or on TV. To most people a drowning victim simply looks like a person swimming or playing underwater. This makes it very difficult to detect, even for trained professionals.
WAVE works with you to watch over everyone around your pool in real time. It provides you with a powerful advantage that could mean the difference between a great day in the water or tragedy.
---
WON'T WAVE MAKE CAREGIVERS COMPLACENT?
---
No, not at all.
In fact we have found the opposite to be true. Using our system increases awareness of being vigilant while supervising people around water.

We have found that most people feel less stress and anxiety with a WAVE system in place, making swimming more enjoyable for both the swimmers and caregivers.

Watch this excerpt from an interview with an aquatics director at a school system that uses WAVE in both of their pools.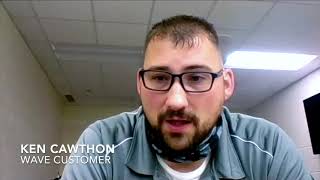 ---
WE'RE GREAT SWIMMERS. DO WE STILL NEED WAVE?
---
Yes! Drowning can happen to anyone at any age, including experienced swimmers and trained atheletes.

The truth is that the risk of drowning is always present. Even great swimmers can succumb to drowning due to unexpected fatique or illness, environmental changes, injuries and more.

And please remember, even if you or your family are great swimmers, NEVER swim alone, with or without a WAVE system.
---
MY SWIMMERS DON'T SUBMERGE. DO THEY STILL NEED TRACKERS?
---
Yes!
Accidents, such as muscle cramps, slips, falls and head trauma can happen above water and impact a swimmer's safety. For this reason, it's critical that you strongly encourage anyone entering the water to always wear their Tracker or Goggle Clips. Non-swimmers should always have a ToddleTag on when they are around or have access to water.
---
DO THOSE WEARABLES REALLY STAY ON?
---
Yes!

We've worked on the design for over two years, testing almost 100 versions on hundreds of different swimmers to arrive at a headset design that stays on securely during most swimming activities yet can be easily removed when leaving the water or exchanging with other users. Should a Tracker fall off, it will float, and most swimmers intuitively put it back on.

GoggleClips attach securely to goggle straps. As long as those goggles are on your swimmers' heads, they are being monitored by WAVE

BuddyTags attach quickly, easily yet securely via magnetic catches. They're easy to remove by adults, but very challenging for little ones.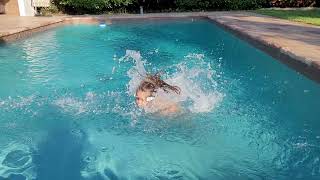 ---
KIDS WILL BE KIDS. WON'T THEY RESIST WEARING TRACKERS OR INTENTIONALLY CREATE FALSE ALERTS?
---
We've tested our wearables on thousands of swimmers and have learned that most kids who are reluctant to wear Trackers or Goggle Clips quickly discover that after only a few minutes wearing one is no big deal. (In fact most swimmers forget they even have one on.)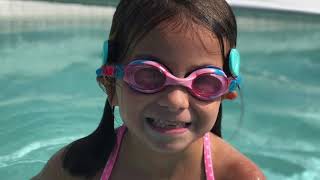 As for intentional alerts, our take is that setting off the WAVE alert is no different from setting off a fire alarm and should be treated as such. For those pranksters that intentionally cause an alert, we have found that swift removal from the water quickly corrects that behavior.
Lastly, while it might be fun and exciting the first time to set off an alert, most kids will become bored quickly and look for other ways to get into trouble ;)
---
ARE THE WEARABLES SAFE?
---
Yes, very safe.
Trackers and Google Clips use very low-power radios that transmit for extremely short durations that last less than the blink of an eye. They are much less powerful than a typical pair of wireless headphones or headsets.
For some insightful information about the practical impact of wireless communications on our health, please click here.
---
HOW DOES THE BUDDY TAG WORK?
---
BuddyTags are attached quickly and securely using a two part magnetic clasp. We recommend positioning them on the back of the individual's waistline area and attaching it to their clothing (shirt, shorts, bathing suit).

For pets, an adapter enables the BuddyTag to be attached to the animal's collar.

If the wearer enters the water and the BuddyTag is submerged, WAVE will immediately notify you.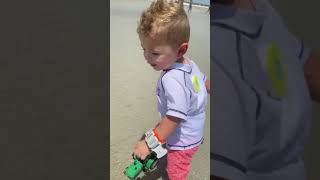 ---
DOES WAVE PREVENT DROWNING?
---
WAVE is a powerful new tool to help you become immediately aware of possible drowning event just in case it was missed. But the truth is that only a human being can intervene to prevent a drowning.

That's why it is so important to never let anyone swim alone or rely solely on WAVE or any other layer of protection against drowning, including gate locks, pool fences, and others.
With responsible, vigilant human supervision and WAVE, there is much less risk each time your family goes near water.
---
HOW DO WE KNOW IF THE WEARABLES ARE WORKING?
---
The WAVE wearables are automatically activated when they detect motion, and enter a sleep mode to preserve battery life when not in use. (However while in sleep mode WAVE still monitors the wearable's status and battery level.)

You can always test the wearable (and system) by submerging the wearable into water for the preset period of time to activate the alert. If a wearable's battery is getting low and the device should no longer be used, WAVE will notify you via the WAVE Management app and/or other notifications.

If a wearable is not working for some other reason, you will not be able to see it listed in the WAVE app.

If a wearable appears to be damaged in any way immediate discountinue using it and remove it from the system using the WAVE Management App.

---
HOW LONG DO WEARABLES LAST? HOW DO I REPLACE THEM?
---
The wearables have a (non-replaceable) internal battery that is projected to last a very long time of 18 months based on swimming every day for 8 hours.

When the battery level gets low, the WAVE Management app will notify you that the wearable needs to be replaced. You can order new wearables anytime at our online store or by contacting us.

You may also choose to participate in one of our subscription services plans which may include automatic wearable replenishment as specified intervals.
---
CAN SHARING THE WEARABLES SPREAD GERMS? WHAT ABOUT COVID-19?
---
Our wearables are made with materials designed to deter the growth of most germs and viruses. For best protection, we recommend that each swimmer wear their own personal Tracker. However, for those families that share wearables, like most shared athletic products, regular cleanings will help to reduce risk. Clean the wearables with soap and water, and then disinfect. Soaps, disinfectants and bleach do not damage wearables. To find out if your disinfecting product is CDC approved, visit https://www.epa.gov/sites/production/files/2020-04/documents/disinfectants-onepager.pdf.
---
WHY A WEARABLE? AREN'T VIDEO-BASED SYSTEMS BETTER?
---
We applaud all efforts to prevent drowning. However, unlike WAVE, video-based systems use algorithms to detect a motionless body already in the process of drowning. They are not portable, won't work in dark water or at night, and can be tricked by glare, shadows and blind spots, just like the human eye. They also tend to be a much more expensive alternative to WAVE. For more on this topic, as well as why WAVE uses wearables, please see this graphic.

---
IS WAVE A POOL ALARM?
---
No, not really.

Generally speaking, pool alarms are relatively "low-tech" devices that detect when something (usually 18lbs or more) enters your pool. They are typically used when a pool is not in use.* WAVE is a much different product, and was designed to safeguard people who are supposed to be swimming or around water, dramatically reducing the risk of drowning. And unlike pool alarms, WAVE works in pools, lakes, the ocean, and even on boats.

* We are currently working on an accessory for WAVE that will also monitor backyard pools and alert you if any person or pet comes too close without your knowledge. Stay updated by subscribing to our email list.
---
WHERE CAN I USE WAVE?
---
The WAVE Hub is rechargeable, lightweight and portable, so you can monitor your family anywhere they swim, including clear water pools to remote, murky lakes. You can leave it wall-mounted for your backyard pool, take it to the beach or even on your family boat.
---
HOW DO I INSTALL WAVE? (SPOILER ALERT: YOU DON'T)
---
WAVE is wireless and rechargeable. Nothing goes in the pool exept your swimmers.

First, charge the system Hub and connect it to your home's WiFi using our included app. (Note: WiFi is required only for setup, managing preferences, system updates, remote alerts and notifications. It is not required for normal operation.)

Next, you'll use the app to quickly configure your new wearables, and set up your preferences.

Once you've confirmed the system's range for your environment you simply place the system Hub near the water.

As soon as your family puts on their auto-activated WAVE wearables, the system will immediately begin monitoring their status, alerting you if any may be at risk.

It's that simple.
---
---
Designed in Connecticut USA
Never allow anyone to swim alone regardless of age or athletic ability.
WAVE products are designed to supplement vigilant human supervision.
© WAVE SYSTEMS INC | All rights reserved | Patents-pending | Designs subject to change.