IF YOU DON'T SEE IT, THEN NOTHING ELSE MATTERS... WITHOUT THAT ABILITY TO SEE, YOU CANNOT POSSIBLY PREVENT.
- NASCO AQUATICS LIFEGUARD TEXTBOOK
ONE REASON DROWNINGS OCCUR IN LIFEGUARDED FACILITIES IS BECAUSE

LIFEGUARD SURVEILLANCE IS A HIGHLY DIFFICULT TASK.
​
- NATIONAL INSTITUTES OF HEALTH
HAVING WAVE GETS YOU
ONE STEP CLOSER TO BEING ONE.
Even though you are highly vigilant and responsible when watching over the welfare of those in water, the risk of drowning is always present.
​
The truth is that anyone can drown, even if they are good swimmers, had swim lessons, are great athletes, or are under your watchful eye. It happens quietly in seconds and even a minor distraction can prevent you from seeing it in time.

Easy to use, WAVE provides you with a powerful tool to enhance your efforts to keep your swimmers safe.
​
​
WAVE DOESN'T JUST PROTECT YOUR SWIMMERS. IT PROTECTS YOU TOO.
WAVE works in the background while you vigilantly watch over your swimmers, just as you always do.

The system monitors swimmers in real time and accurately determines how long each swimmer's face is fully submerged and therefore unable to breathe.
If any swimmer has been underwater for a dangerous period of time, WAVE immediately notifies you by vibrating your Staff Bracelet and system audiovisual alerts.
You watch over your swimmers as you normally do while wearing a Staff Bracelet. The Bracelets are comfortable, adjustable and waterproof.

If the Bracelet vibrates immediately investigate your scan area and intervene if necessary.
For WAVE to be effective it will be important for you make sure that all of your swimmers wear their Trackers or Goggle Clips with no exceptions*.
​
WAVE is a new approach to aquatic safety and some swimmers may be reluctant to change. But just like bike helmets, people get used to new things over time, particularly when it comes to their safety.
​
​
​​
* Exclusions may exist for swimmers with special needs or unique circumstances that prevents wearing a Tracker or Goggle Clips. Discuss these situations with your aquatic director to determine a best course of action.
Frequently Asked Questions
Are appliances reusable?
---
Latex appliances (with the exception of our foam prosthetics) are completely reusable. Wash with soap and water and store at room temperature for endless wears.
---
Why use water activated makeup?
---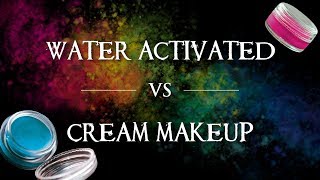 For a comparison of water activated and cream makeup, view the video to the right. Water activated makeup dries quickly and is smudge resistent, meaning it won't rub off! Provides bold and complete coverage with little effort. Acheive a sheer look with more water, meaning you have more options. Water activated can be applied to latex appliances. Unlike cream, water activated formulas can be layered or blended together. Easily remove water activated makeup with soap and water.
---
How do I apply latex appliances?
---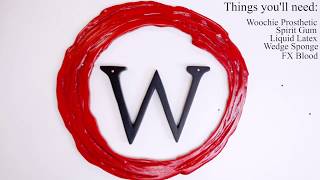 Using spirit gum, apply spirit gum to the back of the appliances and tack to skin by repeatedly placing the prosthetic on your skin, lifting, and replacing onto skin. Using a wedge sponge, apply liquid latex to the edges of the appliance. For injury appliances, use FX blood to achieve a bleeding effect.
---
How do I use Peel & Stick 3D Appliances?
---
It's simple! Just Peel the latex appliance off the backing paper and stick down to skin.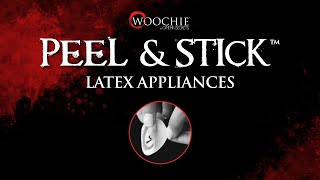 For added illusion, cover the edges of the appliance in liquid latex and/or blood!
---
---